On Saturday, February 5, 2011, Wang's Martial Arts held its Ninth Annual Chinese New Year and Award Banquet at Café East in Humble, Texas.
After enjoying a delicious and filling meal, the MC for the evening, Victor Makris, warmly welcomed everyone to the festivities and honored the present black belts with small trophy for their time and effort at the studio. Next, the awards for tournament and report card points were handed out with first place being a seven-foot trophy! There were numerous smiles and flashes of the camera.
Following the awards was the entertainment program, which opened with the modern dance by Sabrina Cauvet, followed by Victor Makris, wowed the audience with his classical guitar playing a South American piece and a baroque Italian piece. Memorial Northeast Hospital Tai Chi group won the talent show contest. The evening concluded with Chinese Fashion show. WMA students, family and friends showed off lovely silk like garments and passing the Red envelops. Once again the banquet was a great success thanks to everyone at WMA, their family and friends.

Tournament Points:
5-8 years old:
1st – Tim Garcia,
1st - Ayden Sowers,
2nd – Diego Ramirez

9-14 years old:
1st – Jose Guzman,
2nd – Julian Rosas,
3rd – Randy Membreno

15 years plus:
1st – Marvin Henderson,
2nd – Rand Warzeka,
3rd – William Stanley


Report Card Points:
5-8 years old:
1st – Sean Paul,
2nd – Diego Ramirez,
3rd – Alyssa Ramirez

9-14 years old:
1st – Emmory Leach,
1st – Nicholas Becerra
2nd – Jose Guzman,
3rd – Julian Rosas,
3rd – Jacob Brewer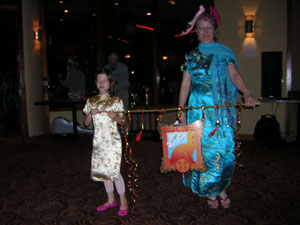 Tracy Lee pictured with Darby.

Winners of Prize drawing on February 5, 2011.

Grand Prize:
Football autographed by 10 Football Hall of Fame, 1 NBA HOF, 1 Olympic Gold Medallist. Kenny Houston (86), Don Maynard (87), Charley Taylor (84), Bill Dudley (66), Mel Renfro (96), Paul Krause (98), Leroy Kelly (94), Bobby Bell (83), Dave Wilcox (2000), Lem Barney (92), Jethro Pugh, Ollie Matson (Olympic Gold Medallist 1952), Hal Green (NBA HOF 81). –Marvin Henderson
2nd: Wii game console (Value $199.00) –
Julian Salgado
3rd: iPod Shuffle/4G (Value $79.00) –
Roland Sims
4th: Large wall picture (Value $90.00) –
JR Phillips
5th: Kung fu uniform (Value $49.00) –
Melinda Pettey
6th: Kicking shield (Value $65.00) - Steve Alonso
7th: Kicking Target (Value $39.00) – Van Bernales
8th: One hour private lesson (Value $99.00) -
Sean Maley
9th: Gold footed China Lady stand – Diana Garcia
10th: Satsuma Vase - Van Bernales
11th: Satsuma Vase - Daniel Hernandez
12th: Cork picture - Emmoery Leach
13th: Crane & Elephant scene - David Ramirez
14th: Embroidered rose with stand - Diana Garcia
15th: Lucky rose glass pot - James Dyess
16th: Marshall attire plaqe - Roberto Matsumura
17th: Wall Scroll - Darren Bush
18th: Wall Scroll - Roberto Alvarado
19th: Lovely China tea set - James Dyess
20th: Lovely China tea set - Tim Edmonds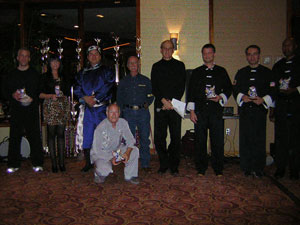 Wang's Martial Arts Black Belt picture -Chinese New Year 2011.

Entertainment Program
A. Modern Dance by Sabrina
She began her ballet training at the age of 5 in New York. She received a BFA in dance (modern concentration) from UT-Austin. She has enjoyed dancing and choreographing work in unlikely as well as traditional settings. She has just begun her studies in Kung Fu under Master Wang and hopes to make martial arts a lifelong pursuit. In addition to parenting, She has a pilates studio which has served the North Houston area since 2000 and maintains a small farm with her sister where they raise dairy goats.
B. Guitar by Victor Makris and Russell Martino
Victor began his studies of guitar at the age of 13. He studied classical guitar steadily through college with Gerald Blakeman and Wolfgang Justen and then attended master class by Christopher Parkening and Pepe Romero. When he is not playing guitar or practicing kung fu he is an attorney practicing in the area of business, social security disability, personal injury, and other areas in law.
C. Kung Fu demonstration by Wang's Martial Arts student.

D. Talent show Contest by Memorial Hermon Northease Hospital Tai Chi group.