On Saturday, February 4, 2012, Wang's Martial Arts held its 10th Annual Chinese New Year and Award Banquet at Café East in Humble, Texas.
After enjoying a delicious and filling meal, the MC for the evening, Mr. Victor Makris, warmly welcomed everyone to the festivities and honored the present black belts (Rafael Gonzalez, Allen DeWoody, James Moricca, Marvin Henderson, Rick Strickland, Terrie Dennis, Jack Santos, Esmeralda Smith, Daniel Thibodeaux, Wilfred Hung and David Barnes) with medal for their time and effort at the studio. Next, the awards for tournament and report card points were handed out with first place being a seven-foot trophy! There were numerous smiles and flashes of the camera.
The entertainment program started with fabulous Chinese Lion Dance with two lions and music team. There were many smiles and joyful children. Kung Fu demonstration by Wang's Martial Arts students followed by Victor Makris & Ricky Martino playing "Stairway to Heaven" on guitar - very impressive! The evening concluded with Chinese Fashion show. WMA students, family and friends showed off lovely silk like garments and passing the Red envelops. Once again the banquet was a great success thanks to everyone at WMA, their family and friends.
Tournament Points:
Report Card Points: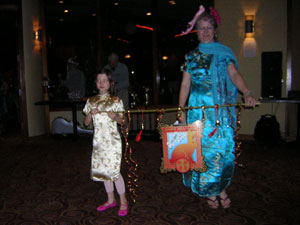 Tracy Lee pictured with Darby.

Entertainment Program

A. Guitar by Victor Makris and Russell Martino
Victor began his studies of guitar at the age of 13. He studied classical guitar steadily through college with Gerald Blakeman and Wolfgang Justen and then attended master class by Christopher Parkening and Pepe Romero. When he is not playing guitar or practicing kung fu he is an attorney practicing in the area of business, social security disability, personal injury, and other areas in law.
B. Kung Fu demonstration by Wang's Martial Arts student.